A skin is defined as "a texture for a 3D object / model". A skin is also what makes an object look good and real, which depends on the skin's quality. Usually, skins come in variety types: JPEG, PNG, TGA, and, even to an extent, DDS. The process of making the texture for an object is called skinning, and for every skinning for your object requires an image-editing program. For DDS, this would take up to eleven as you would need a special tool for your image-editing program to be able to open those types.
"In computing, a skin is a custom graphical appearance preset package achieved by the use of a graphical user interface (GUI) that can be applied to specific computer software, operating system, and websites to suit the purpose, topic, or tastes of different users. As such a skin can completely change look and feel and navigation interface of a piece of application software or operating system. A skin may also be associated with themes, which usually only implies part changes and smaller differences, such as colors and similar." -Wikipedia (Image source)
As expected, the scope of this Skinning talk is skins for racing games, and this post has been planned months back, but never realized. Now that this post is finally online, here goes my saga of car skinning... :D
SKINNING LIFE: THE ORIGINS
I remember that I make skins for a game called Live For Speed but they are never posted online; I just did it just for fun, and it was years back, exactly in 2008 where I still use PC and I had LFS there. If you'd like to know, skinning in Live For Speed is simple; there's no shading in every car's skins, and all you have to do is to just skin to your heart's content. Skinning in this game is pretty straightforward due to this, and there's no need for extra tools because the skins aren't even DDSs. The game even comes with a Livery Preview program (forgot the name) that can preview your skin and see how good it looks.
As the time goes by, I don't play LFS anymore. All I was doing is just mindlessly driving the only demo track:
Blackwood (
both Circuit and Rallycross configurations
)
, and my selection of cars weren't varied enough. Talk about transitioning, I started again my interest of skinning, this time in a better and cooler environment: TrackMania United Forever.
ATTACK ON TRACKMANIA UNITED FOREVER MODELS
Mazda RX-7 FD LM Edition livery, inspired by the same car from PSX installments of Gran Turismo series with slight changes skin-wise. (Model by Codemasters, converted to TMUF by MinituX - page)
As you could see on my previous blog post, I'm recreating the Mazda RX-7 FD LM Edition shown in early installments of Gran Turismo, all for PSX. I chose to do this because of its simplicity; it doesn't need to be all flashy with all those lines, and only needs one color. However, in the game, there's a variety: The FD3S LM also comes in Green and Black in conjunction with Red. Later installments (the PS2 ones) has FD3S LM depicted as Super GT FD3S-lookalike with all-new looks livery-wise, and not to forget putting the shiny Gran Turismo and Polyphony Digital logos, and has more colors like Yellow and Dark blue to name a few in addition to the three aformentioned colors. Oh, and did I mention that this is TrackMania United Forever?
Yup, this is one of the RX-7 FD models you can play as on TMUF simply by downloading the model via the Carpark. In TrackMania Carpark, you can choose your desired car model to be download and for most models there's also a template download too. Not only the 3D, there are lots of skins as well for certain cars you desire. Thanks to creativity and Photoshop, there are now 1000+ skins in total, and that includes skins for all default cars in TMUF, ranging from Drift car-inspired skins, to well-known-in-motorsport livery depictions, and finally shameless energy drink skins!
Debenhams AMR DBR9 for TrackMania United Forever. This was the first skin whose progress I publicized, but then its progress was halted due to no shading and ultimately died. See below for the reason
Sadly, speaking of skinning in TMUF, I had to swallow the stupidest and most unfair decision Trackmania Carpark forum moderators have done: deleting an account for spamming while the account in question DOES NOT do it. A long time ago, I had an intention to skin an Aston Martin DBR9 (by Chupa) and found out that there's no Templates link available (usually there is), and the link to the Templates download (provided in the model's thread) is dead already. This was where I decided to do the extreme action: To open the thread titled "The Lost Templates Thread" where its purpose was obvious: to have someone upload lost Templates link on some models' download page. The next day the thread was made, I couldn't find my thread and all of the sudden all of my posts were gone, even on the model request section where I requested vast number of cars like Toyota Corolla WRC and Porsche 911 GT1. To make things worse, I cannot log in even though my login credentials were right. Even if it was right, it redirected me to the log in page again and again until I saw a staggering warning said "This IP has been permanently banned". The worst part of all is, when I e-mailed the admin regarding to my reason why my account is deleted, the only words that he asked me about "Who are you?". But, didn't I registered my account with the same e-mail I used for doing the mentioned action?
It´s quite a while ago that this happens, and as far i can see this was for spamming. Not for a thread that is said for templates or things like that. But as said, i can´t remember to that. it´s quite a while ago..
I was totally enraged knowing that I cannot freely post my progress of my skins due to that. I blamed the moderators for doing the action without even investigating further whether I spammed or not (or perhaps gave me a first warning instead so I can let them know that I didn't do the spamming thing). And no, it was not because the Lost Templates thread, as you saw it...
Fast forward to the time of this blog post, I created another account via a Wi-Fi connection (because my modem connection is already hated by Carpark mods) but not yet post a progress. But one thing's for sure, I continued skinning TMUF cars. One of my projects is to create a skin for
Mooncraft Shiden
(by GKRacer), but that's not the only car I focus too. There's still the FD, and the
JGTC-kit R34
(by QtoR) in queue. Other than the three, there are lots more to skin. (read: moving on)
Yet, I feel Carpark yet has so much variety of available models. I can understand that making 3D isn't an easy job, not to forget converting another game's car to be playable on TMUF is also this. So, there's a second option to this skinning biz...
FINDING A FORTUNE IN GTR 2
BPR Global Series mod for GTR 2 - 90s Grand Touring Goodness! + My first target mod
At first, I bought GTR 2 at a game shop for the sake of trying the
BPR mod
. As time progresses, I've been digging mods that interests me, most recently the
EEC GT3
mod where it includes all FIA GT3 cars, and the best thing is that it also comes with skins based on
Blancpain Endurance Series 2012
as a separate download! Also worth a download is the
WSGT mod
for GTR 2, which is a convert of the
rFactor mod of the same name
(and the original WSGT). This way, the DBR9 skinning work originally planned to be made on TMUF was transitioned to GTR2 with newer look, same main sponsorship.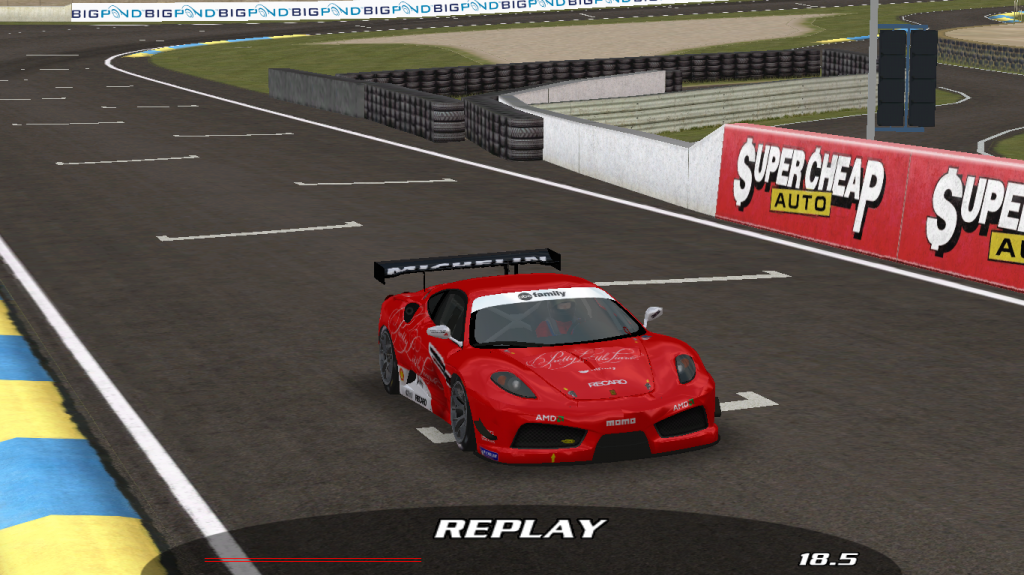 GT3 Goodness: Shephard Racing Team Pretty Little Liars F430 at Mount Panorama Circuit. It's just a matter of redoing the striping and the numberplate... Didn't I also said that Anime promotions in motorsport are too mainstream? This is the answer for such question
Both EEC GT3 and WSGT mods are the ones I recommend to skin for everyone, the BPR mod skins are also worth to try in case if 90s GT runners are your thing, and you have interests in making their skins. There are lots of other race cars out there, but you should find them by yourself as most cars cannot be mentioned here due to a couple of reasons. Other than that,
NoGripRacing
and
e-Sport Racing
can be your first choices :).
WSGT saved my life: even better version of Debenhams AMR DBR9. Now that's more like it :)
Overall, GTR 2 skinning workaround is much different than in TMUF. While in TMUF you simply skin the "diffuse" of the car (or you can do the same for the "details") while not forgetting the Alpha layer and put them in your custom car's zip file, GTR 2 has you dealing with *.gtr files which are series of *.dds files of the car's skin comprising of the skin's "Body" and "Windows", among other things. You don't need to make their Alpha layer but you need a special tool to view *.gtr files like
GEditor
. The work doesn't stop there; the *.car file in your skin's folder defines your car's properties, from parts used (via Genstring options) to the skin's team name and the skin's drivers' name. Mind you,
there are
some tutorials
for that. :D
TMUF x GTR2 Project: SUPREME CHALLENGE
It took me long enough to make a logo for this series. There were lots of drafts, and I tried too hard in making a logo that can conceive the "racing" message for this series. It's yet finished as it needs colors
There are TMUF models not available in GTR2 (either the model in general or just the templates for skinning's sake) and vice versa. SUPREME CHALLENGE is basically just a fictional "racing" series showcasing different cars. The cars in SUPREME CHALLENGE will utilize several tuning cars such as Lancer Evolution IX, Mazda RX-7 (third generation a.k.a the FD), and Mazda RX-8 to name a few, to a series of GT3 cars like Nissan GT-R, McLaren MP4-12C, and Mercedes Benz SLS AMG. Think of it as Super GT, Super Taikyu, and any FIA GT3-spec endurance series you can imagine set to "liquefy".
Specialized numberplate for the SUPREME CHALLENGE skins. Skins without this numberplate is not part of the series. I took the Super GT approach for this numberplate, and is actually a different take to my previous numberplate (see illustrations below). Shameless promotion included in it.
While I've made several skins, I've yet to share the world how they look like. The plan was to be finished in 2013 but then it's 2014 already and that I had to follow the 2014 "standards". Confirmed entries are, including the Team Pretty Little Liars...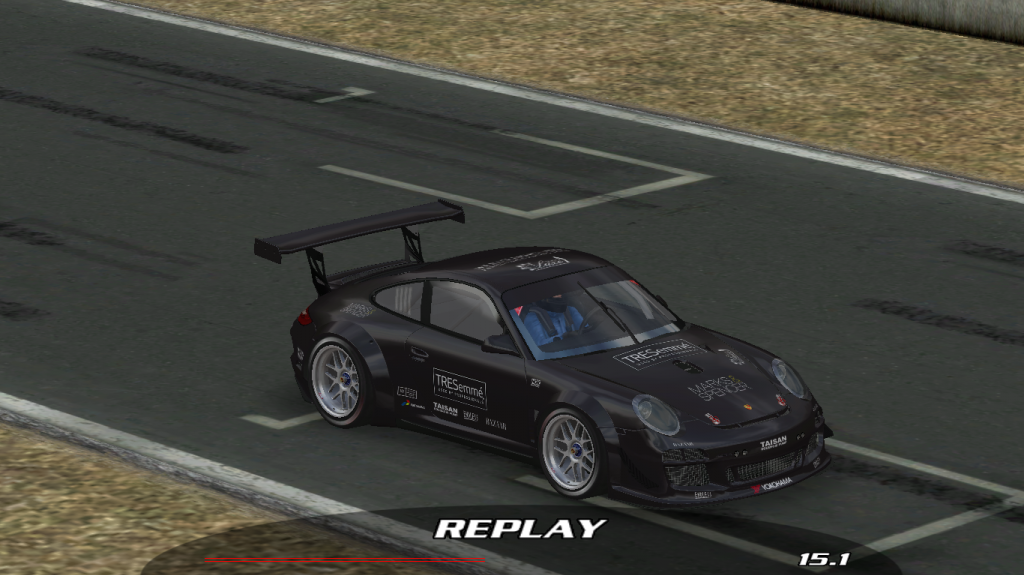 Drafted for many times: TRESemme Team Taisan 911 GT3. Owned by the racing team "Team Luxe", whose drivers are all working fashion models. Let's say that they do this as a hobby...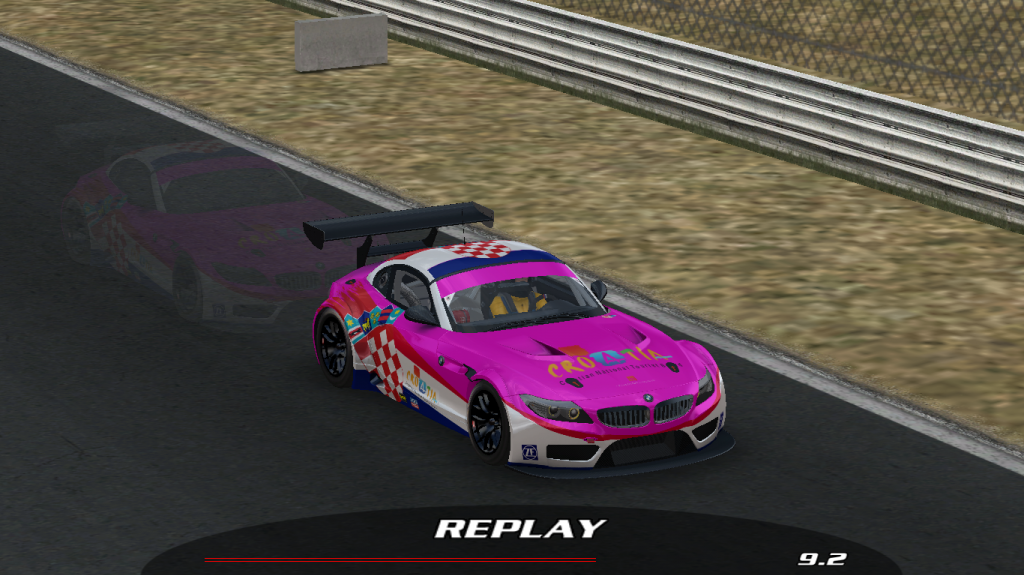 Taking inspiration from a team from another game: Croatia Racing Team Z4 GT3 Coupe. To be honest I was a little short on finding a perfect title sponsor for the team until I thought that "promoting Croatia" is a good thing.
Why you shouldn't be idoling: Taylor Swift Racing 911 GT3. I knew Juan Pablo Montoya in NASCAR had Taylor Swift livery on his car, and this is the TaySwift livery taken up to eleven.
One of the returning Indonesian teams: DRTV Racing Team Solite MP4-12C. It's uncommon to see a TV Shopping brand become a sponsor in motorsport, but one can dream, right? Last year they used GT300-spec NSX as their weapon, but this year... The regulations have changed.
...and these are the "Recurring" entries (they're not technically 'recurring' entries as this is the first time I share these skins. However, let's imagine that SUPREME CHALLENGE already started long before this blog post). These entries use the old numberplate whose template I lost prior to my re-installation of my Windows 7 OS (damn you TetraCopy for skipping my backups when I try to copy them -_-).
Some of the recurring ones are Team Luxe, Team Pretty Little Liars, Croatia Racing Team, and DRTS, plus...:
Champions of the past: George Richards Racing entered SUPREME CHALLENGE since its 2009 season, won two years after joining, and used this car until 2013: GRC Giordano Supra (with adjustments to match FIA GT3/JAF GT300 cars). This year, they're rumored to use a Gallardo due to the change of regulations.

Inspired by an e-Sport team: STP Frantic.Intl Viper SRT GT3. By the looks of it, it emulates Fnatic. Other e-Sports team-inspired skins I would make would be those inspired by Natus Vincere, Alliance, and mousesports to name a few.
French counterpart: TOTAL Frantic France Viper SRT GT3. Compared to its SUPREME CHALLENGE counterpart, Fnatic has no French counterpart whatsoever...
Older drafts, old skins, and not-going-to-compete skins are:
Older look of the GRC Giordano Supra. Compared to this, this has more lines and a British flag but not the frog logo (which is a brand logo for Giordano btw)
Buffy Racing Team LiveJournal 911 GT1. For obvious reasons, this car doesn't make the cut.
Older draft of Taylor Swift Racing. This RX-8 version of Taylor Swift Racing follows the style of JPM's Taylor Swift livery although this car's main sponsor is iTunes and his was Target.
Pirtletech ULTA Beauty Z4 Coupe. One of the cars that utilize the older nameplate layout. They won't be returning this year...
Honda Racing x DRTS NSX GT300. This is DRTS's contender last year.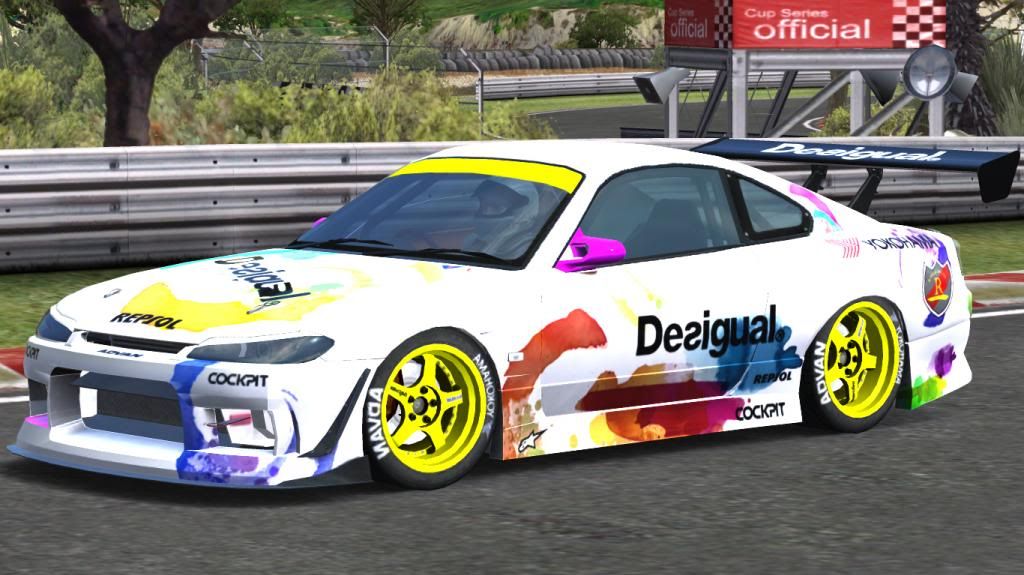 One of my TMUF creations: Desigual Silvia GT300. Another JAF GT300-spec car and is owned by a Spanish team called "Colores". This year, they're going to use the GT3-spec GT-R.
While there are more skins than what you can see here, I still have to think the concepts for each competing team's livery, and the number of the teams competing in the SUPREME CHALLENGE is still in the question mark. Other than that, skinning in GTR2 and TMUF has their own ways, but enjoy doing it is part of the process. Whether you try to replicate your favorite racing team or create an original skin of yours, it sharpens your creativity and Graphic Designing skills altogether.
Neither is the car mine nor is the skin. I just toy the Mediatracker a little bit...
~[R]